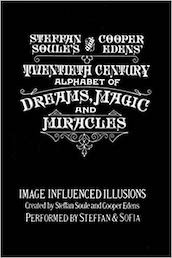 F

oreward…
Cooper Edens is the magic in the muse. He breathes magic while those in the same room breathe air. Oh to be in that room. Welcome dear reader, dear actors, dear ones, spiritual seekers, and the unencumbered, welcome to the real magic of two collaborators on a mission to keep the world magical. Now it's a race. Your kind help is appreciated. Our mutual love of wonder shall predominate.
About the Illustrator and the Book
Cooper Edens is an author and an illustrated, that published more than two dozen children's books along his artistic life. Burn in 1945 close to the natural Lake Washington in the Seattle area, his talent showed early when already in first grade his principal said that he shouldn't be in school because he was too creative. He was allowed to take this year off of class, spending this time mostly coloring.
He published his first book, If You're Afraid of the Dark, Remember the Night Rainbow, in his early 30's and more than 1.3 million copies of it were sold. Following that he continued to write, illustrate, and compile, by himself and together- partnering with various artists to compile and produce a variety of children's books. His last compilation was published in 2005 and nowadays his current project is creating interactive digital versions of his most popular books.
One of the artists with whom Cooper collaborated is the Presentation-Magic-Artist, Steffan Soule. They have worked together in the sunlight during the early 1980's with Jim Steinmeyer, John Gaughan, Doug Henning and Willie Kennedy. Together they created some of the magic used by the Canadian magician Doug Henning. The fruits of the work of this once-in-a-lifetime dream team, is this book – "Twentieth Century Alphabet of Dreams, Magic and Miracles", written by Steffan Soule and illustrated by Cooper Edens, 1989. But don't be fooled by Cooper's children's books history, for this book is actually for the children inside us, the adults. Further than sharing this eye astonishment art, the book had another goal: it was meant to help Soule produce the  play on Broadway.
They are still waiting for the phone to ring… But in the meantime, you can enjoy the enchantment that will spring to life from between the pages.
Book Reviews
Nice work. I enjoyed the book. Thank you.
I am picking B, H, S and F.
These are great vignettes. Let's make this into a play.
Now that you have the Hourglass, our dream is your nightmare.
Further Publications by Steffan Soule