Steffan performs with logos, buzz words, a little inside information about a project, person or event, and stories from your group. He weaves your company's history and vision of the future into a compelling show for right NOW.
Playing cards with the company's name, appearing CEOs, floating logos and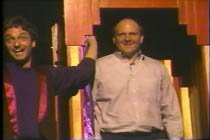 spinning products: these are in Steffan's corporate bag of tricks. He can also pull the shirt off someone's back, levitate a spectator, and go beyond anything you have heard of in the magic business. On the right is a picture of Steffan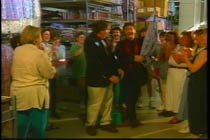 Soule making Steve Balmer magically appear in the Transformation Cabinet!
Steffan Soule brings a special creative, theatrical quality to the corporate events market with every performance.
Custom scripts, effects and visual magic help make a good show great!
The Magic of Sustainable Choices – The Magic of Sustainability – Sustainable Change
Steffan performs shows on Teamwork, Process Improvement, Sustainability, Continuous Improvement, Total Quality, Systematics, Accomplishing the Impossible, Security & Fraud, Challenge & Change and "You Make the Magic." It is time for a custom magic show!