Steffan Soule presents artistic magic
designed for high level corporate events and seasoned for the corporate & family audience.
Steffan Soule has crafted his show for the modern corporate audience while writing custom magic shows for top executives at national sales meetings, corporate retreats and annual events.If you want a guaranteed excellent performance that communicates success, teamwork and quality while it motivates people to reach for their dreams, choose the performance of Steffan Soule, magician extraordinaire.
Replace your motivational speaker this year with a real twist: Steffan
Soule motivates with amazing illusions that demonstrate your theme, products and your ideas.
Why get a pre packaged speech when you can get a real show customized to your own message?
This video contains Stage Magic, Close Up Magic, Custom Magic for corporate messages, a clip of Steffan in front of college age & teenagers (00:28), and mostly, performances for adults: corporate audiences.
Only a seasoned performer can handle teens like this. Watch this and be amazed, but remember, you can have this! Steffan Soule will inspire your audience! [click here for a windows media version of this video]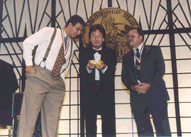 At the IRS National Meeting, the Chief  Inspector of  Fraud said,
"I have no clue as to how Steffan caused my signed $100 Bill to disappear from my hand and reappear inside the one lemon I picked from a bag of lemons. It is absolutely impossible."
It takes a confident and polished performer to reach the modern corporate audience. Steffan's level of quality, a level which ensures that everyone in your audience will be impressed, makes the event planner look great. You might find a comedian, you can definitely find a great musician, but there are very few truly great corporate style magicians. You have found one now!